Talent optimization is a four-part framework
Most companies find it difficult to assemble high-performing teams and to manage employees in a way that pushes everyone to the top of their game. They create a business strategy and monitor their business results. But they often don't do the key "people work" in between and therefore fail to reach their desired goals.
Predictio can help you use this discipline to align your business strategy with your people strategy for optimal business results.
The 4 modules of the PI Solution are described below.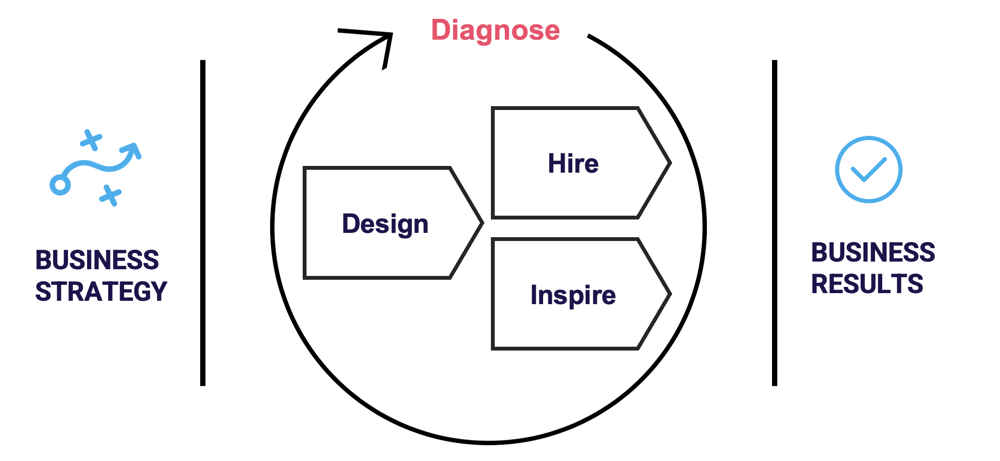 Recommended strategic activities
In order to uncover the root cause of your business or team problems, you need to complete the following activities:
Identify

potential and opportunities

Measure what matters (engagement surveys, PI, 360 etc.)

Analyze the evidence

Prescribe improvement actions
These activities repeat in a loop. By completing them, you will discover insights that will lead you to make changes to the way you design, hire and inspire within your company.
Uncover the root of your business problems by measuring and analyzing your people data, then prescribe remedies as needed. Diagnose is the first part of talent optimization, but it's something companies need to do on an ongoing basis.
Recommended strategic activities
In this step you will complete the following strategic activities:
Select your organization's structure
Evaluate your leadership team fit
Understand senior team dynamics
Establish your culture
By intentionally and strategically engaging in these four activities with the support of data, you can position your company to reach greater heights.
Beat the competition by designing your organization, leadership, culture, and team dynamics intentionally and strategically. Design is the second part of talent optimization, and this is where you'll create and evolve your people strategy.
Recommended strategic activities
In this step you will complete the following activities:
Define and communicate job requirements

Equip your leaders to land top talents

Predict new team dynamics

Determine candidate culture fit




When you nail hiring, things starts happening! People feel energized by their jobs and their teams. Performance and engagement increases. You delight your clients and boost your brand reputation. And with time you attract other top performers.
Use people data insights to build a workforce of top performers, while paying special attention to group dynamics. Hire is the third part of talent optimization, and this is where you'll use talent optimization insights based on people data to hire and build high-performing teams.
Recommended strategic activities
In this step the following activities should be completed:
Create new jobs and career paths
Develop your leaders and HR to hire right person in right job
Predict, create and understand high-performing teams
Reinforce your culture
The most successful companies know that their leaders need to be self-aware and understand the power of inspiring their employees.
Give your employees the people data insights they need to manage themselves and their workplace relationships. Inspire is the fourth part of talent optimization and covers employee-oriented activities like career pathing and measuring team performance over time.
Make an impact on the business with talent optimization
With the right tools and frameworks, you can deliver strategic insights that will drive key business decisions, support leaders and employees, and ensure everyone in your organization supports your business strategy.
An important part of talent optimization is the application of data where the PI system allows you to collect and use this data to:
Measure engagement and behavior throughout your organization.
Hire with purpose and prioritize candidates with the right behavioral and cognitive match for your organization.
Protect Employer Branding by building and maintaining a strong culture.
Increase engagement and productivity while reducing staff turnover.
Your organization's success heavily relies on its people. If your employees are not aligned with your organization's strategy, it can hinder your ability to achieve your goals.
Most companies create a business strategy and decide what business results they want to achieve. However, they often forget to look at who, in other words, which employees, are needed where to achieve the goals. You can't guess when it comes to team building and culture – you need a data-driven and strategic approach. And that's where PI can help!