Find the Right Person for the Job
Before you hire, think about what is needed to do the job successfully. What are the behavioral and cognitive requirements of the role you are recruiting for? Many recruiters don't know!
The PI Job Assessment will help your hiring team determine behavioral and cognitive benchmarks for roles in your organisation.
What is the PI Job Assessment?
In the PI Platform, you have unlimited access to the Job Assessment. Completing this assessment will help you analyze each job and identify the underlying behaviors and cognitive ability needed to be successful in a specific role. A job target is created by one person or multiple stakeholders (HR, recruiters, hiring manager, employees, etc.) completing a PI Job Assessment. The Job Assessment takes between 10-15 minutes fill out, which is a small investment of time in relation to the value it will bring you.
With the PI Solution, you can easily compare and match candidates' drives, needs, behaviors and cognitive abilities with the job targeting profile. With the help of an algorithm the candidates will be ranked, which gives you a great overview of each role.
How does the PI Job Assessment work?
When all stakeholders have completed the PI Job Assessment, the PI system generates a profile with requirements around driving forces and cognitive ability – a template and a goal for the role in question. This can be used to ease the recruitment process as well as create an informed candidate pool.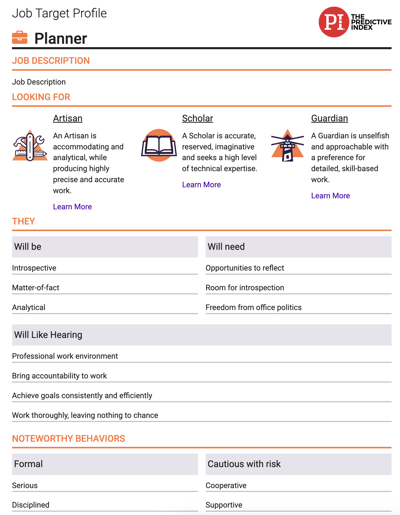 Example of a PI Job Report
Leverage the Job Target in interviews
Come prepared with a PI Interview Guide.
Based on your candidate's fit to the Job Target, the PI Interview Guides give structure to your interview, helping you uncover more about your candidate's workplace behaviour.
Asking investigative interview questions early will help you identify key-traits of your candidates like their ability to cooperate with others, their capacity to complete detailed tasks and their patience.
Use the Job Target for coaching
Once you have created a Job Target for a particular job, you can also use it in coaching situations.

Using the Job Target, you can create a coaching guide provided with relevant coaching questions based on the fits and gaps between the behavior required in the job and your employee's natural behavior.

Based by your employee's fit to the Job Target benchmark, the PI Coaching Guides provide insight to employee development opportunities.

In the PI Solution, the fits and gaps in the employee's natural behavior compared to the job benchmark are automatically analyzed. These fits and gaps are then used to generate coaching questions for each of the four behavioral factors. Managers can use these questions to discuss the employee development process and identify employee strengths.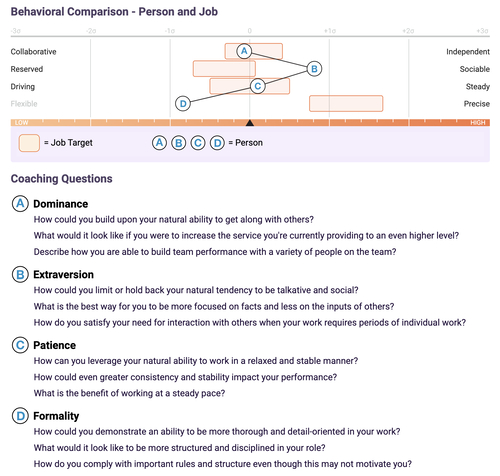 Do you want to learn more about the PI Job Assessment?