Is your organization struggling with?
High staff turnover
Low-performing employees
Lack of leadership skills
Low employee engagement
This is often due to one or more of the following areas; lack of communication, disagreement, conflict, change, a feeling of 'us against them' and difficulty in conveying/receiving constructive feedback.
We offer a practical leadership program that gives your leaders better self awareness, an understanding of how they influence their employees and how they can motivate and engage their team members both as individuals and as a team.
You choose the scope of the program. See examples below:
Management team + Managers + Employees
Here you analyze your whole organization. When we involve all levels, a feeling of inclusion and belonging is created. The organization gets a common language to use and it ensures that you get the full effect over time.
Management team + Managers
The management team and managers get powerful tools and insights into the current leadership as well as a guideline for how they want to lead and inspire in the future. This arrangement requires the management team and the managers to implement and spread the knowledge on to the employees.
Managers + Employeees
The managers and employees gain a solid understanding of each other and themselves, but there is a risk that it will not be fully anchored in the entire organization when the management team is not included.
The leadership program is based on PI that analyzes people data in your organization. The program consists of 4 possible activities that can be tailored according to your needs. Read more about the activities below: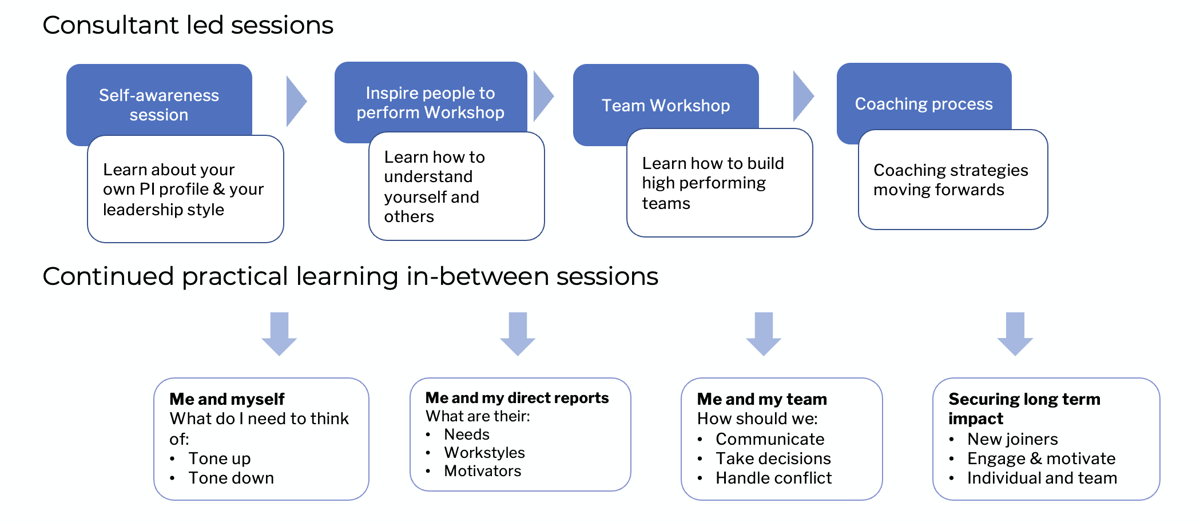 A) Self-awareness Session
Each manager will receive a 35-minute feedback session with one of our PI consultants discussing what drives them and what gives them energy, and how it may affect their leadership.

Prior to the session, they will complete a PI Behavioral Assessment.

After the session, they will receive their individual reports.
C) Team Workshop - Building

High Performing Teams
Establish an understanding of each team member's motivations and work style and uncover your group's specific "Team Type."

By building lasting cohesion and collaboration habits, you'll uncover the team's collective working style, strengths, potential caution areas and leave with a clear action plan.
B) 1-day or

½ day PI Training
This training "What Drives People" is an introductory crash course to PI Behavioral Assessment™, with the essentials to get your leaders started.

Decode employee drives, understand their motivating needs, and consider how these play out in the workplace.
D) Coaching Session - with one of our consultants
2 x 1 hour coaching session

Action plan and key take aways




"Working with Predictio has been a true engagement boost"
Anita Karlsson, People & Organisation - Husqvarna GIS